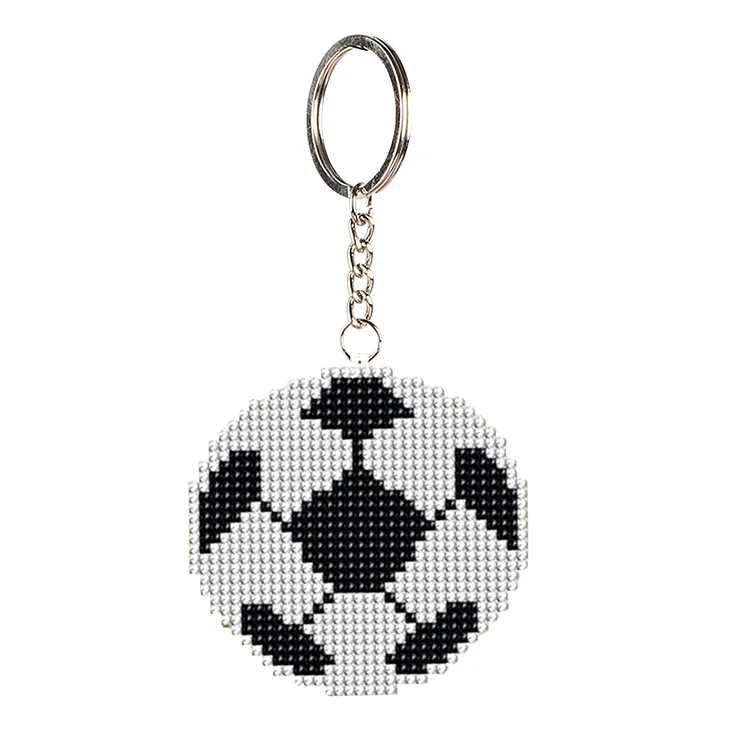 DIY Full Beads Football Printed Cross Stitch Embroidery Keychains Handmade Backpack Pendant Jewelry Key Ring
Feature:
1. A guide graphic consisting of different numbers and symbols tells you where to draw the grid and what color beads should be used. All you have to do is follow the symbols on the paper. Learn how to get started.
2. The beads used are colorful and durable, making your pearl embroidery vivid and durable.
3. The Pearl embroidered artwork will bring you a happy time and a sense of accomplishment when you finish your work. Your beaded art can be used as an ornament or as a unique, meaningful and irreplaceable gift for your loved ones.
4. DIY painting, unique, using resin as varnish, resin sequins unique luster is dazzling, shining in the light, is the most popular DIY decoration at present;

Specification: 
Model: SMX-051
Material: Key Chain + beads
Size: As picture
Bead type: full bead
Category: Pendant
Suitable crowd: General
Occasion: suitable for gifts, party supplies, wedding travel accessories

Production Instructions:
1. Take out the material and prepare, check the embroidery cloth, and choose the color from less to more or from more to less according to personal preference. (put on 1 bead in each grid, only half a stitch is needed for bead embroidery to keep the direction of beads consistent, all left / / or right \\). After the pattern is embroidered, 1-2 more squares should be left on the edge of the pattern to cut off the excess part, and then sew 2 pieces of fishing thread along the bead edge one by one.
2. Put the doll\'s cotton into it (as long as you feel comfortable).
3. Fix the key ring when sewing to the center or the position you like (scan the QR code below).
4. Finally, the beautiful work will be finished. Hanging in the car, living room or giving friends will be a good choice; Pearl embroidery: this embroidery is a small grid of 2 strands, half embroidered needle, each grid directly put on a bead, thread from the upper left corner, string beads, from the lower right corner down, and then in the same part according to the above method to wear the second beads.
PS: stitching fish thread with 1 strand of beads and thread and 1 strand of fold embroidery.

Note:
Please allow 1-3mm differs due to manual measurement.
Due to the different display and different light, the picture may not show the actual color of the item. Thanks for your understanding.

Package Content:
1 X Filled Cotton
1 X Printed Embroidery Cloth
1 X Embroidery Thread
1 X Embroidery Needles
1 Pack X Beads
1 X Keychain
1 X Drawings
1.

How to track the order

and

the tracking code?
You can also send your order number or your order email to service@biggestcraft.com. We will check the order and package information.
Login to your account and check your orders in My Orders

Computer users can find the login portal by clicking on the pattern in the upper right corner of the store page

Mobile users can click on the pattern in the upper left corner of the store page and slide to the lowest end to see the login portal
2.Tips for finding other products that are similar in style to a product
If a product's sku is 929451.02, please search for 929451 so you can find other sub-styles.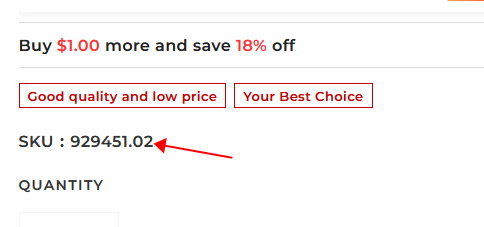 3.What forms of payment methods are accepted?
Our store only supports paypal payment
4.How long will it take for the goods to be shipped?
Delivery of our products will be arranged within 2 days. In case of new products or out of stock, it will take 3-8 days.
If necessary, you can send us a link or picture of the product before placing an order and we can check the product stock.
5. More Promotions
For more discounts, click on "More Promotions"
6.

Customer Reviews
Share your feedback and pictures with us in our store to get a $3.99 discount coupon. Don't hesitate, come show off your beautiful work now!
(After sharing your pictures, please contact service@biggestcraft.com and we will send you the discount coupon.)
If you encounter any purchase problems or after-sales problems in our store, please do not hesitate to contact us (service@biggestcraft.com)
Business:info@biggestcraft.com